College and Career Fair Equips Students and Parents
Selma High held its annual Community College and Career Fair on Wednesday, September 18th from 6pm-7:30pm in the SHS Quad. Students and parents were able to visit many booths with representatives from surrounding colleges. A few of the colleges that were represented were UC Merced, UC Irvine, UC Los Angeles, Fresno State, and Fresno Pacific. AVID students also came together with the colleges and shared their knowledge on a particular school. 
"My job as an AVID student was to give a quick presentation over the college of my choosing," stated junior Brian Perales. "My goal was to hopefully interest the student in attending the college being represented."
Assistant principal, Ms. Richardson, had the idea of getting AVID involved with the college fair.
"Students were given a platform to present to others," said Ms. Richardson. "It gave them a chance to talk to people they don't get a chance to talk to. This year in particular we had them next to college representatives and other businesses, which gave them a chance to interact with those folks as well.
Senior AVID student, Julie Aceves, mentioned that the College Fair also gave students information on trades such as firefighting and the military.
Students' performance in high school affects their future and so does the college they attend after graduation.
"These four years are the foundation of the rest of our lives," expressed senior AVID student Ubaldo Apolinar. "It is vital that we leave high school with a clear understanding of what we want out of life."
Several AVID students explained that they were glad to see so many parents attend the fair with their child because it's so important.
"Parents and family affect a student's choice on their future, which is why both parents and students should come to the college fair," stated Apolinar. "With an informed parent, the student will be able to create a plan that satisfies both them and their families."
College planning is a stressful time for many high school students and the fair was meant to help ease the process for students. Sometimes students might not receive accurate information about a college from a friend or family member. The college fair only offered accurate, updated information about a variety of colleges.
"It's important that students are educated about different colleges because many are just focused on one school for one reason," said junior AVID student, Emily Dominguez. "However, they should be educated on what other schools also have to offer and if these other schools can benefit them more."
According to several AVID students, the fair turnout was great.
"I think the amount of people that showed up to the event was great because I could see the people really interested and interacting," stated Perales.
Parents didn't refrain from gaining needed information.
"I also noticed that parents were the ones with the most questions, which shows how parents are more worried about their children's future, which is why it is important that students bring their parents with them" explained Apolinar. 
Hopefully after this year's college fair, both students and parents feel informed and equipped to confidently enter college application season.
Leave a Comment
About the Contributor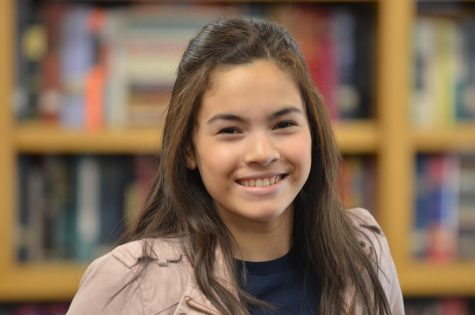 Katarina Quintana, Editorial Editor/Webmaster
Katarina is a senior and a three year veteran with The Clarion. She is the editorial editor and webmaster this year. She enjoys singing, dancing, and photography....