Remembering An SHS Legend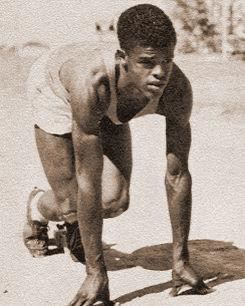 "He was a man of all men." These are the words Track Coach Haskel Hensen used to describe the late Ancel Robinson who died on September 12, 2019, at the age of 86. Robinson was one of the most accomplished track stars Selma has ever known, and his passing will in no way diminish his legacy.
Born in Los Angeles and raised in Selma, Robinson later attended Selma High School where he was introduced to Coach Ted Miranda, who convinced him to try out for track. After some hesitation, Robinson would eventually join the team and run in the 220-yard low and 120-yard high hurdles, breaking record after record as he consistently improved his time. Robinson was even known for putting bottle caps on the hurdles, trying to knock them off in order to get the lowest possible clearance. This persistence and dedication would lead to Robinson defeating his previously undefeated rival, Fresno's Don Brinker, in the West Coast Relays.
After his time at SHS, Robinson ran track for Fresno State. While competing at the NCAA championships, Robinson broke the world record in the 220-yard hurdles with an astounding time of 22.2 seconds. He would only continue to amaze as he set the 120-yard high hurdle record of 13.6 seconds for Fresno State in 1958 which was left standing until 1994. For his outstanding achievement, Robinson was made a member of both the Fresno and Selma Athletic Hall of Fame.
A dedication to his sport was then followed by a dedication to his country as Robinson enlisted into the Army and was deployed into service in Korea, Japan, and Iwo Jima. After returning from his tour, Robinson's love for track led him to compete in the Kingsburg AAU meet. However, Robinson would take on new hobbies as he grew older, eventually learning how to roller skate. He also opened his own T.V. repair shop named Ancel's TV, and he began to fix motorcycles and planes on the side. According to his wife, Anna Robinson, Mr. Robinson's proudest achievement must have been when he not only enrolled in pilot school and learned how to fly, but when he then built his own plane and flew it.
At every step, Ancel Robinson was a testament to the power of dedication and motivation as a driving force to greatness. A small town athlete with a monumental gift was able to leave his mark not only on the track, but on the lives of those around him. Robinson leaves behind his wife, Anna Robinson, of 60 years, his two sons and a daughter, seven grandsons and two grand-daughters, a great-grandson, and a legacy that can never be erased.