Olive Garden's Famous Chicken and Gnocchi Soup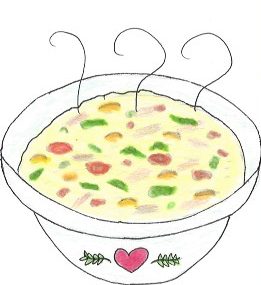 Since this is the final time I'll write the recipe for The Clarion, I've decided to go the savory route for this issue. One of my favorite soups from Olive Garden is the chicken and gnocchi soup. It's creamy, peppery, and overall delicious. I use this copycat recipe from Creme de la Crumb every time I make this soup. Let's go make some soup!
You will need:
4 boneless skinless chicken breasts (cooked and diced)
1 stalk of celery (chopped)
1/2 a white onion (diced)
2 tsps of minced garlic
1/2 cup of shredded carrots
1 tbsp of olive oil
4 cups of low sodium chicken broth (using regular broth will be too salty)
Salt and pepper (to taste)
1 tsp of fresh thyme
16 ounces of potato gnocchi
1 cup of half and half
1 cup of heavy cream
1 cup of fresh spinach (roughly chopped)
Steps:
Season your chicken with salt and pepper. Cook your chicken breasts on high for about 5-7 minutes. The chicken should be brown.

Heat your olive oil in a large pot over medium heat. Add your celery, onion, garlic, and carrots and sauté for about 3 minutes, or until the onions are translucent.

Make sure to also cook your gnocchi according to the package directions first before adding it to your soup! Add your chicken, the chicken broth, salt and pepper to your liking, and the thyme, bring this to a boil, then gently stir in the cooked gnocchi. Boil for 3-4 minutes longer before reducing heat to a simmer and cooking for 10 minutes. 

Stir in half and half, heavy cream, and spinach. Cook another 1-2 minutes until spinach is tender. Taste, add salt and pepper if needed, and serve!
If you have breadsticks, dip them into your soup for an added bonus. I hope my recipes have brought you immense joy this year. I hope you learned something new and continue your love for cooking! Cheers!