Baskin Robbins Review: Wild-N-Reckless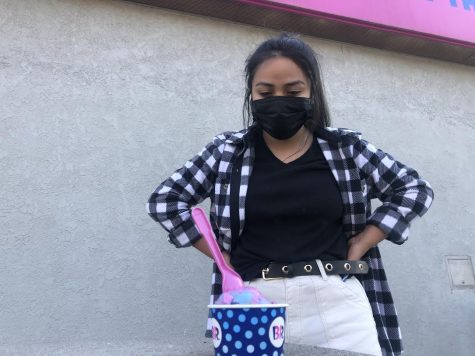 Ari:
This month Chloe and I had the privilege (or misfortune) of trying out Wild-N-Reckless.  I am aware that this is a somewhat popular flavor for some.  However, it wasn't very popular for me.  If you've been following this little review series, you'd know that I'm somewhat of a picky eater.  I feel like I'm going to be the one that dislikes every flavor we taste, but hey, at least when I do like something, you know it's really good!
Anyways, this flavor was a bit too sweet and sour, almost fruity, for my liking.  If you have a sweet tooth, you'll more than likely love this flavor.  It's visual aesthetic wasn't too compelling.    It was a swirl of purple, blue and green ice cream which made it look like some type of fruit yogurt.  When I first tasted it, I was taken aback with how strong this ice cream hit you with its sour, fruity, tangy taste.  It took a while for this strong state to subside a bit but even then the actual flavor of the ice cream wasn't all that great.  But like I said, I am a picky eater.  In actuality I could be over exaggerating this and this flavor is completely fine.
This flavor is definitely not as bad as last month's flavor of the month.  Although it's beginning to get a bit cold, you should go out and try it yourself.  In my book I give this ice cream a 6/10.
Chloe: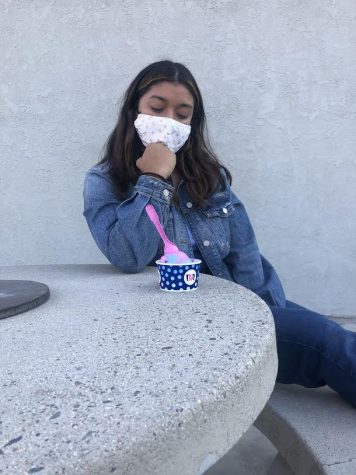 I tend to think of myself as a "glass half full" kind of gal. This goes for most situations, however this month I must say this outlook was challenged while determining my final opinion of Wild-N-Reckless. The Baskin Robbins review has quickly become a been a source of joy in my life that I look forward to. So this month I was a bit disappointed when there was indeed no ice cream to be beheld as the special Flavor of the Month. 
When trying this flavor, I was transported from a world of flannels, changing leaves, and approaching holidays back to a summer realm of stickiness, fruit, and damp foreheads. There must be some internal pallet shift that comes with the changing of the seasons, because this flavor just screams SUMMER, and I simply can't enjoy it as much as I know I could during the month of July. Wild-N-Reckless is a colorful sherbert, an explosion of flavors, and good for a hot day. Like any good sherbert, it's fruity and immediately recognizable. True to its name, there's a hint of sourness to be noted, adding a nice kick. While I generally enjoyed this flavor, I think it was just a bit out of place in my world at the moment, and so the total effect was dulled. It was my first time trying Wild-N-Reckless, and I was pleasantly surprised, but I must try it again in the summertime. I'll give it an 8/10.