Winter Percussion: Shared Goals, Shared Happiness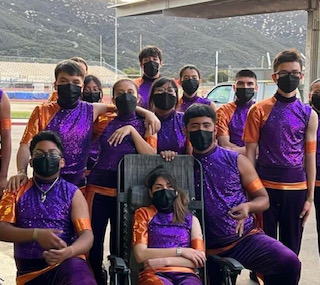 Selma High School's winter percussion group had a competition in Temecula on February 26. The competition was on a Saturday, but because Temecula is a long-way drive, the winter percussion group left one day earlier and stayed the night in a hotel. The competition the next day would last the entire day.
Selma High School's winter percussion participated in the Temecula Percussion and Winds Regional in which they won fourth place out of five groups participating in their division. For most of the students who are a part of the winter percussion group, it is their first time marching at a high school level. The winter percussion group has put in a lot of hard work to attend and do their best; it is not an easy thing to do. Winter percussion is made up of an ensemble that marches using battery instruments like the snare drums, bass drums, marimba and xylophone. It takes place in an indoor setting. They have to manage their time wisely and balance being a student and being a part of winter percussion. One of the difficulties of forming part of winter percussion are the various practices during the week. As a group, they practice together three days out of the week and a total of fifteen hours.
Although, at times it may be hard to balance rehearsals and other activities, it is an enjoyable activity that brings happiness to the members of winter percussion.
"My favorite part was honestly being able to perform," stated junior Javier Gutierrez. "I always loved performing and being able to show off to the judges and the audience what we can do. Putting the show together makes it seem like the long hours of practice are worth it." 
The teamwork winter percussion requires is also a key part to a good performance. For sophomore Bryan Luis, it contributes to having a good time doing this activity. 
"The best part of working together as a team is the memories we make and our collaboration to reach our collective goal," explained Luis.
Mr. Lima as well as Ms. Jimenez, the winter percussion instructor, make sure the students have practiced well. 
"We prepare the students for a competition by making sure they are well rehearsed, by walking them through what a show day will be like, and by giving them plenty of warm up time in the lot on a show day," Lima states "We would like to tell the students that we are proud of all the work they do. If they keep it up, there is nothing they can't achieve." 
Attempts to reach Ms. Jimenez for a quote were  not successful.
For some, their motivation may be the end result, for others it may be the process of working hard to put on a show. However, the common thing is that winter percussion brings good memories and happiness to those who work toward the same goal, sharing with others what they enjoy and have worked hard for.