Swim Team Striving for Valley
On April 28th, the SHS varsity swim team competed against Exeter. The girls team came out with a win, and the boys lost by a close 80-79.
The team has consistently improved their times as the season has progressed, and new swimmers are finding out what events they perform best at. Coach Wood explained that they are focusing on League Championships and Valley Championships as their main goal.
"Everything we do at practice is meant to prepare for those meets," Coach Wood stated.
Their progress was not without hard work. They faced many obstacles this season including being out of the pool for a few months due to the coronavirus.
"Our entire team had to train harder this year," senior Arriella Alvarez said.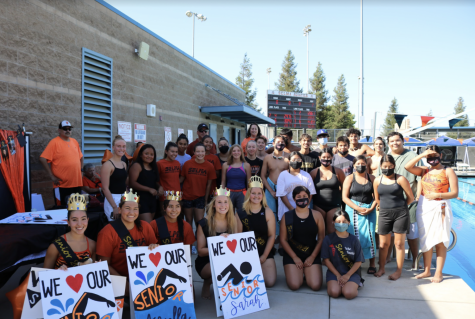 Alvarez's favorite event is the 500 yard Freestyle, which is equivalent to 20 laps in the pool. She has had a few first place finishes this year and has exceeded her times from last season. She often gets asked how she is able to have enough endurance to swim long distances like the 500 yard event. 
"It is because I am confident, I believe in myself, and stay focused," she confidently states. "However, there is more work to do. I know it is a work in progress." 
The team does weight training harder sets during practice as well as setting goals for themselves. They all encourage each other to do their best and are very supportive of each other's goals.
"Our ultimate goal is qualifying as many swimmers as possible for Valley," Coach Wood asserted.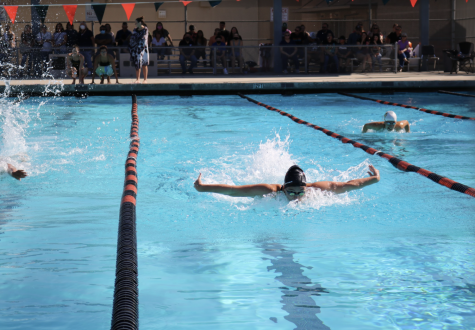 Qualifying for Valley Championships is more difficult this year because CIF is only taking 24 of the top swimmers instead of the normal 40. In addition to less qualifying swimmers, the girls team recently moved up to Division 1 which makes it even more challenging to qualify due to harder competition. They hope to send four  girls, and the boys team is on course to qualify four  swimmers for Valley as well.
The varsity swim team's season is not over yet as they have their sights set firmly on Valley.
"Anything can happen if I set my mind and heart to achieve my goal. I plan to finish strong," concludes Alvarez.