The Night of Nights: Prom 2021
Diana Garza, Co-Editor in Chief/Webmaster/Co-Sports Editor
May 25, 2021
Selma High and Heartland Alternative's graduating class of 2021, cleaned up excellently well for Prom on May 8. The dance took place at Grace Barn, a beautiful outdoor venue in Del Rey, that perfectly complemented the events' rustic farmhouse theme. The centerpieces were wood and floral vases which composed a fairytale-like scene. After a year of distance learning, cancelations, and quarantine, Prom was a fabulous finale for Selma High seniors. 
"I felt really grateful that the parents saw how much we wanted this for ourselves, and were able to make Prom possible," said senior Sofia Orosco. 
Without the parents who organized Prom, the function would not have taken place. Typically, Selma High School coordinates the event, but—due to COVID restrictions—the school wasn't planning on throwing a Prom. Seniors, who had already missed out on everything spectacular about their last year, were frustrated.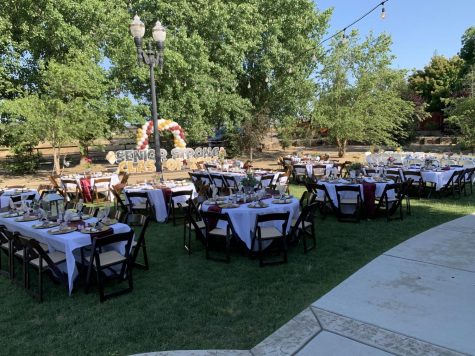 "As the year was coming to an end, my daughter was disappointed that no one was doing anything for her senior year," recounted Raman Gill. "I wanted to do something to help." 
Many other parents shared Gill's feelings. After four years of hard work, seniors deserved a special day to commemorate high school. It was then that parents took matters into their own hands, demanding that the landmark experience must take place. 
A group of Selma High parents began sharing posts, attending meetings, spreading the word, and a Gofundme was created to raise money.
"Yvette Montijo gave us a very generous donation to help us get started," proceeded Gill. "Mrs. Mendoza helped us with centerpieces and donated flowers."
Mateo from Impact Photography donated his services, as well as the DJ from Solid Entertainment. Many local businesses also chipped in, Bloomy's with flowers and Valley Ice contributed ice cream. It is because of Selma's sense of community that the special day came to pass. The city came together beautifully to celebrate their graduates.
"This highly impacted my senior year because experiencing a senior Prom was one of the things I looked forward to," explained Ashneet Gill, "Actually getting one after a whole year of letdowns lifted my spirits." 
With classes barely resuming in mid April, numerous school activities did not take place, many of which are special for seniors getting ready to graduate.
"Prom gave me a chance to enjoy the high school experience before I leave Selma High," added Orosco.
The night wasn't just about students' individual experience, but about joining together as classmates for the last time before graduation. The bittersweet moment marked the beginning of the end for the class of 2021. 
"It was a good opportunity to see my classmates once again before graduating," said Elizabeth Ruiz. "My first impression was 'Wow!' I did not expect that many people to show up." 
Because of the large turnout, Prom attendees fed off each other's energy and danced the night away. 
"The highlight of my night was dancing with my friends," continued Ruiz. "It was honestly so much fun."
There was also a raffle at Prom, open specifically to Selma student's. The prizes consisted of cash, a Sun-Maid basket, certificates to local restaurants, and more. All of the items were donated by generous patrons. The months of careful collaboration undoubtedly paid off, resulting in a truly spectacular affair. 
"Watching the kids dance, being happy, and making memories made every moment priceless. I get goosebumps talking about it!" Raman Gill exclaimed.
Beyond the glitz and glam, Prom was filled with tender moments. Immortalized by photos, laughs, and memories, the night of nights will not be forgotten by Selma's seniors.