Mrs. Spencer: Not Your Average Librarian
Few students are familiar with the Library Staff at Selma High School, however this should quickly change as SHS welcomes Mrs. Spencer as the new "Teacher Librarian." This position requires a certified librarian, who helps manage the collection of books, but mainly focuses on teaching students to develop an appreciation of reading. She is more than excited to meet new and work with students. 
Mrs. Spencer has been in the educational game for a while. "I've been teaching for 30 years. I can't believe it," she shared. She has worked for school districts of Caruthers Unified (where she originally started), Clovis Unified, Fresno Unified, Golden Valley Unified, and has finally made her mark in Selma Unified as she is "ready for a change" with a desire "to sharpen librarian skills in the high school level." 
Although she has worked her way to the top, she had to start somewhere. She has attended all of the Fresno schools in having went to "Fresno City College, Fresno State University, and Fresno Pacific University."  Her undergraduate education began at Fresno City College as she earned her Associate of Arts Degree in Liberal Studies. Mrs. Spencer moved on to the California State University, Fresno, where she received her Bachelor of Arts Degree in Liberal Studies and a credential in Multiple Subjects. She felt the need to maintain another credential as a Teacher Librarian while attending at Fresno Pacific University. 
Other than her working life, Mrs. Spencer also shared that her and her husband are proud owners of a Therapy Dogs International certified dog. "Grace (is) a Golden Doodle, which is part Poodle and part Golden Retriever," she said. "My husband and I had to train her and went through a series of puppy obedience classes that would be followed up with a test, and she passed." Grace was specifically purchased to benefit kids. She gives the kids love as well as confidence and reassureance by being active regardless her own circumstances. Mrs. Spencer is compassionate about helping others in both her work life and personal life.
"My number one joy is meeting students in the library. I love getting to know high school kids. I know you guys are young adults," she said. "I love books and I love seeing kids interact in the library space. I love watching them read, use technology, and collaborate. I just love the vibe in a library."
About the Writer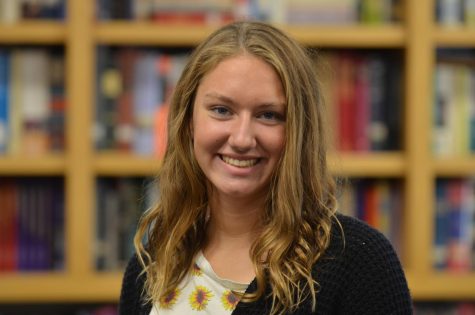 Tori Valdez, News Editor
Tori Valdez is a senior and is this year's co-news editor. Besides this being her 3rd year in Clarion, she has been involved with the band program for...