May Flavor of the Month: Strawberry Dragonfruit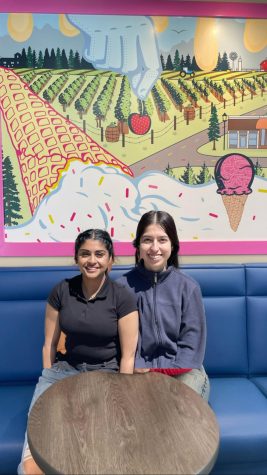 At last, our last BR review!! :'(
Although our reign as Co-Editors-In-Chief comes to an end, we both have enjoyed our time doing the BR review, but time–as we know it–continues to fly! *drumroll please*
Presenting the co-editors in chief of 2023-2024, Masielle Pantoja and Palak Tohan!!!!!
Celeste:
With this being the last flavor to feature, I can say this has to be the best one I can finally accommodate to have a good rate. It was one I was able to be confident in as I walked through the door rather than walking in with the ick of it being chicken and waffles. The strawberry dragon fruit introduces the month into a warm summer day with its very berry flavor. It has a heavy taste of strawberry with the bits of dragon fruit inside. The texture wasn't too bad as the bits gave in the fruity taste with the strawberry. It has a vibrant pink color to it which made the ice cream even more tempting to try. With a final say, I would rate the flavor of the month a 8/10.
Lovleen:
Quite honestly, my favorite flavor so far!! Redeeming the Baskin Robbins reputation for last issue–the quite unpleasant flavor of Chik n Waffles–Strawberry Dragonfruit is the type of flavor you'd like when you crave something really sweet during your late night cravings! It may be a bit too berry but, nonetheless, it was perfection in a scoop. I didn't expect the chunks–and I mean legit CHUNKS–to taste so heavenly! The ice-cream has a bright pink and purplish color, with swirls of strawberry and small pieces of dragonfruit! I would rate this flavor a solid 9.2/10!