February Fashion: Love Through Expression
Gopy Kaur: Modern Grunge
February, the month of love, often sparks warm feelings towards others. Love, specifically self love, demonstrated through expression, is the focal point of this excerpt. Fashion connoisseur, Gopy Kaur, believes in visual expression. 
"My fashion inspiration comes from lots of things. I don't stick to what's trendy but more of what fits my personality. I like a lot of grungy clothing from the 90s and try to incorporate that into my style," remarked Kaur. 
In this scene Gopy dons a Post Malone Runaway tour t-shirt and pairs it with a medium wash jean jacket, customized by Xochitl Carranza. A jean jacket can always spice up an outfit, but try customizing it to make it your own! To add some edge, Gopy distresses her look with a pair of black ripped jeans and a pair of black 1460 Doc Martens. Versatile yet savvy, this look stays true to Gopy's vintage vibes.
Jacob Rodriguez: Minimalist Street-wear 
The expression of street-wear captivates hearts across the globe and is a perfect way to step outside of what seems comfortable and conventional. Here, Senior Jacob Rodriguez taps into this mentality and styles an outfit that stays true to his ideals. 
"I'd say the one who caused me to dip my toes into the world of fashion would be my sister. She introduced me to Tyler the Creator's Golf Wang which helped me narrow down my style to a type of minimalistic street wear."
In this setting, Rodriguez styled a Supreme brand barbed wire motocross style jersey. As a solid color, red serves to catch any onlooker's eye, and easily makes this outfit a statement.
He complimented this top with a pair of black chinos and added a pair of polka dot Comme Des Garçons Converse. Instead of wearing jeans, chinos can bolden any look while still maintaining casualness. Just like Jacob, this outfit is effortlessly stylish. 
About the Writer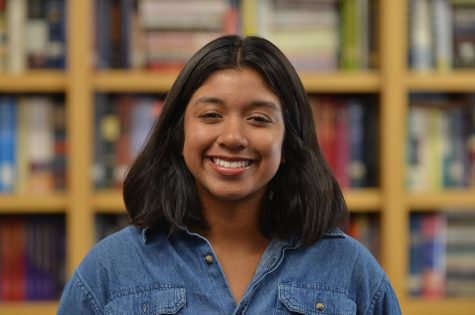 Chloe Mendoza, News Editor
Chloe Mendoza is a junior and this is her 3rd year in Clarion. She is the co-news editor and enjoys writing, both creatively and structured. Chloe is an...